Discover how to send content to Komp, whether it's a text message, a single photo or multiple images. Learn how to share content privately and even schedule it to be displayed at a time in the future.
Adding content
Send photos and messages by tapping Add. You can choose between the following options:
Take photo: use your camera to capture a photo in the moment 📸
Upload a photo: browse through your gallery and select a picture 🖼️
Add multiple photos: use this option if you want to quickly upload multiple images 🚀
Compose a message: write a text message to inform your loved one about a visit, remind them to take medication or simply to say hello! 👋
We know some users have been getting errors when sending multiple photos. We are working on getting this fixed. In the meantime, if you get an error when sending multiple photos resizing or cropping the images in the first step of the image-sending process should solve the problem.
Editing stories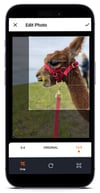 When you have taken or selected a photo, you can now change the size and ratio by tapping on a corner of the frame and drag it to the right size. You can then tap anywhere in the middle of the frame to move it in the right place.
You can add text on photos. The text can be positioned in any corner. The photo will first be displayed with text, and then without text on the device. Therefore, it does not matter if the text covers part of the photo.
Tap on Display time to change the display time. This is the time the photo will be visible on the screen each time it is shown.
Tap on Duration to change the duration. This is the time period during which the photo will be recurringly shown.
Schedule your story to be sent at a later time. This allows you to set reminders for tasks such as taking medication or having lunch, or ensuring a consistent flow of fresh content to Komp. Learn more about Scheduling content.
To share your content with the whole family, enable the Share on family feed option! If your content is only relevant for the Komp user, simply toggle it off to send it exclusively to the Komp screen and you.
If you want to make changes to your content after it has been uploaded, don't worry! You always have the option to edit it later. Simply go to the Feed, tap on the three dots next to the picture, and select Edit story.