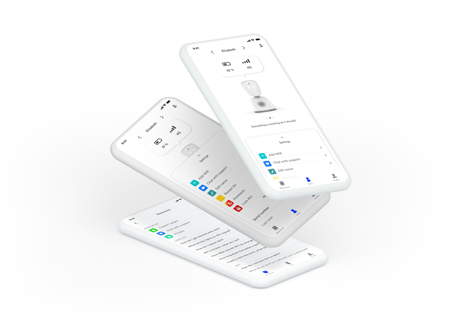 What is an assistant?
An assistant is someone who takes extra care of an AV1, typically IT-staff, a teacher or a parent.
Through the assistant app, you can easily create new keywords check AV1's status, manage WiFi networks, get access to troubleshooting and chat with support.
Download the AV1 Assistant app
You can download the AV1 Assistant app from App Store or Google Play Store
Create your profile
In order to use the AV1 Assistant app you must create a personal profile. Please enter all the required information.
Please make sure the mobile phone number is entered correctly as you will receive a login code via text if you log out and need to log into the app again.
Add an AV1
You can add multiple AV1s in the AV1 Assistant app.
To add an AV1:
Tap Add your first AV1.
Enter the keyword. If the keyword has already been used in the AV1 app you will need a new keyword. Please request a new one of the person from who you received the AV1.
Tap on the banner to add a nickname for the AV1, e.g. the name of the student. No Isolation cannot see this information.
A keyword is a single-use code that syncs your device to the AV1 via an end-to-end encryption. You can use the same keyword in the Assistant app before the AV1 app, but not vice versa. Read more about keywords.