We have taken your feedback seriously, and are delighted to now present to you our Premium features: a collection of exciting new tools, tailored for you to make the most out of Komp.
What are Komp Premium features?
Premium features are additional functionalities in the Komp app that are available to users who have a subscription. Only one subscription on Komp is needed for the whole family to enjoy Premium features in the app.
If you have an active 4G or Komp Family subscription, access to our Premium features is included and you won't need to sign up again.
To who are Premium features available?
While these Premium features are currently available to all users, they will become exclusive to customers with a subscription starting this fall. Anyone with a 4G subscription, Komp Family subscription or is using a Komp Pro (often lend via a municipality), can enjoy Premium features automatically. A rental subscription does not include Komp Premium.
We want to ensure everyone has ample time to explore the added benefits. Once fall arrives, customers without a subscription will receive a message in the app and are able to subscribe to continue enjoying these features or keep using the basic version of Komp.
How can I sign up?
Stay tuned! In fall, you'll be prompted within the app with an invitation to upgrade to Komp Premium.
Our current Komp Premium features
We are committed to constantly improving and expanding our Komp Premium features. Do you want to have impact on what we're developing going forward? Join our feedback club, by clicking on this link.
Schedule story
With the new schedule story feature, you are now able to send a text message or an image to arrive on the Komp at a certain date and time in the future. This can be useful when sending reminders to the Komp about appointments or an activity start time.
Add multiple images
Uploading several images to the Komp can be a lengthy process, which is why we've now made it possible to upload up to five photos at one time. You can still have different settings for the different photos.
Orientation clock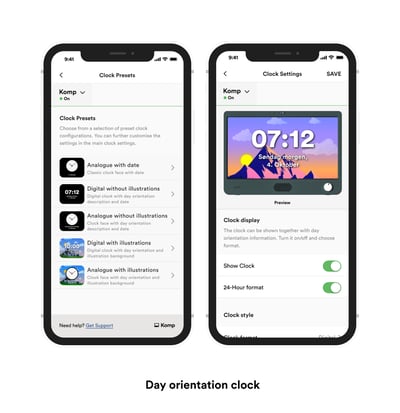 A clock with day time orientation that can be customised by families to show whether it's day or night. A helpful tool for seniors with dementia or memory loss that can reduce stress and anxiety and give a greater sense of being in control.
Morning: from 06 to 10
Forenoon: from 10 to 12
Afternoon: from 12 to 18
Evening: from 18 to 24
Night: from 00 to 6
If you indicate that the day starts at 08:00, it will still be considered "night" until that time. Similarly, if you mention that the day ends at 22:00, it will still be in the "night" period until then.
Unlimited 4G data
Don't worry about WiFi and enjoy unlimited 4G. An integrated SIM card is included in every Komp model EV2b.