AV1 Admin is an online portal that gives you an overview of your AV1s. You can allocate AV1s to schools/organisations by adding a school contact, make new keywords, and monitor if they are active.
As a tool, it gives you more visibility of your AV1s, whilst also allowing No Isolation to give direct support to those using your units.
Features
This article will give you a brief introduction to the main features of AV1 Admin.
AV1s
On the homepage, you can see all AV1s in your organisation. The list is automatically populated based on the customer information we have registered. In the list, you will also see the school contact and AV1 nickname - if applied. The AV1s are organised into two lists;
- Allocated
- Not allocated.
Allocated
If a school contact has been assigned, or a student has used the keyword to connect to an AV1 it will appear in this list. You can also see an indicator if the AV1 is in use, but there is no school contact assigned or vice versa.
Not allocated
If there is no school contact assigned and the keyword is unused AV1 will appear in this list.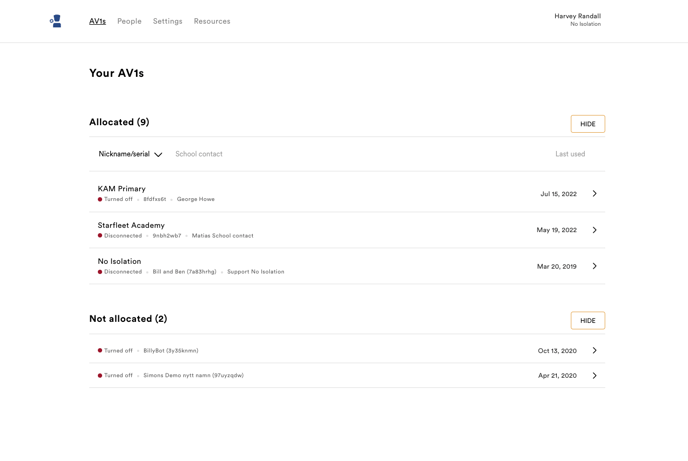 Managing an AV1
Make new keywords
A keyword is required to connect an AV1 to the student's phone or tablet. The AV1 keyword is unique, and can only be used by a student one time on one device. If the student changes device, or there is a change in pupil you need to create a new keyword.
In the AV1 Admin Portal you can make new keywords when needed. It is also possible to give school contacts permission to make new keywords.
Add school contacts / allocate AV1
You may add a school contact to make it easier to know where your AV1s are allocated.
Add notes
You may add notes about anything relevant to the AV1 in the notes section.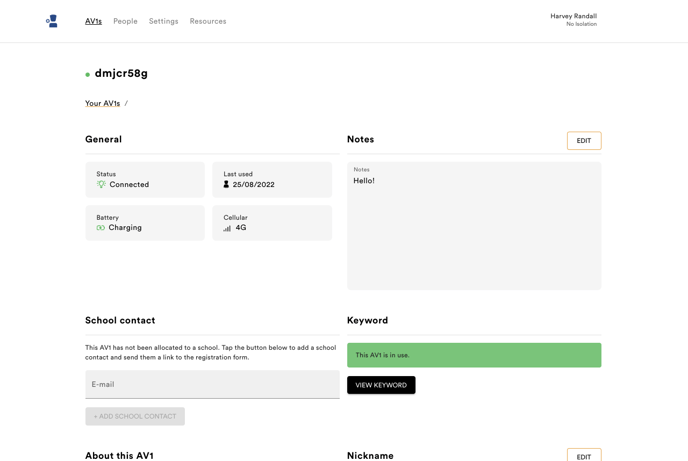 People
The People-page is where you invite new users to the AV1 Admin Portal. There are two different types of users; Administrators and School contacts.
Learn how to invite new administrators
Administrators
Administrators have top-level access to your organisation's AV1 Admin Portal. They can see and manage all your AV1s and help with allocating AV1s. Administrators can also invite new administrators and add new school contacts.
School contacts
A school contact only has permission to see information about the AV1 an administrator has allocated. As an administrator, you can choose if a school contact should have permission to make new keywords in your organisation.
School contacts can have AV1s allocated from multiple organisations and can therefore be seen as a guest user in your organisation.
Currently, it is not possible for an administrator to be a school contact
Resources
We have collected a number of resources available for download. These include draft letters to teachers and parents, classroom information and lesson plans for introducing AV1, as well as technical documents which may be of use for IT-staff. Click HERE to view the resources.